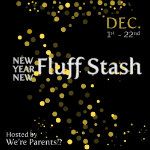 Little love buns was created by a mom who felt frustrated when she tried various detergents and nothing worked for her family. After trying numerous recipes and asking her friends to try them as well, she finally came up with what she thought to be the perfect recipe to help with smells, stains, build up, and irritation. Little love buns is meant for and safe for cloth diapers and it is also great for those with sensitive skin and eczema!
One Lucky Winner Will Receive:
1 Regular Size Bag of Detergent
Giveaway ends December 23rd at 12:01pm EST. This giveaway is open to US and Canada Residents only.
Special Thanks to We're Parents!?
for organizing this great giveaway!